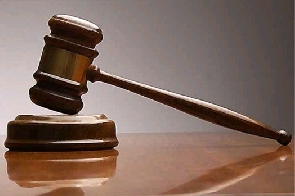 The Criminal Division of the Accra High Court has dismissed applications for bail filed by lawyers of two sets of 12 accused persons standing trial in the Western Togoland Restoration Front case.
The accused persons who are part of some 46 persons standing trial for 12 charges including participating in prohibited organizations, had earlier pleaded not guilty and have been remanded into lawful custody.

However, their lawyers led by George Asameni, made applications for bail before the vacation court in Accra presided over by Justice Comfort K Tasiame.

In court on Monday, September 6, the court dismissed the applications for bail on grounds that, the trial had already commenced and there is no unreasonable delay in the matter.

EIB Network's Court Correspondent Murtala Inusah reports that the accused persons were not present in court.
The substantive cases have been adjourned to September 21 and 23.

The first set of five accused persons are Michael Koku Kwabla Amertonu Gohey, Nene Kwaku Agblorm II, Charles Elo, Dzereke Makena Abednego, and Warrant Officer One (WO1) Emmanuel Hayford Afedo.

The second set of seven are Ernest Dzitor, Samuel Yao Fiagbedzi, Richard Doglo Ametepe, Prosper Avumenyi, Benjamin Kplevi, Isaac Kwesi Afeku, and Richard Dzri alias Mumuni.