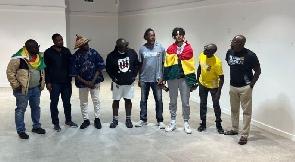 Former President John Mahama has lauded the team of expeditioners who drove from Accra to London, covering a distance of about 10,000 kilometers. He noted that their adventure, conviction, zeal, and determination have brought honour to the country.
The explorers, the Wanderlust Ghana Team, drew great attention to themselves and the country when they embarked upon the journey that led them to traverse many borders in Africa and Europe until they arrived in London. They made international headlines for their extraordinary feat.

"A great story of adventure, conviction, zeal, and determination, which has also helped to raise Ghana's flag across the world. Congratulations to the Wanderlust Ghana team.

Accra to London. More than 10,000 km. You made it!" John Mahama wrote on social media.

The team began the journey on July 23, 2023, and arrived after days on the road in London on Sunday August 6, 2023. They have been widely praised for daring the seemingly impossible and succeeding.
One of the expeditioners Teddy Peprah recounted that while they had great difficulty in some countries, they enjoyed preferential treatment in others when they revealed they were Ghanaians and their hosts recognized the country. In Morocco, he recalled that upon telling a police officer that they were from Ghana, he mentioned that he was a great admirer of Abedi Pelé and helped them through the traffic with a siren.

Congratulations and praises continue to flow in the direction of the team after their arrival in London last Sunday.