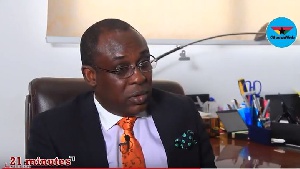 Vice President of Policy Think tank IMANI Africa Kofi Bentil has joined NPP's Kwame APlus in agreement over the nature of governance and administration in Ghana.
Readers of MyNewsGh.com will recall we reported that APlus had said the current government lacked 'Common Sense' over a government decision (through NRSC) to invest about $1.5m dollars in road safety campaigns.

According to A'Plus, such a decision doesn't make sense when our roads had no light.

Kofi Bentil, VP of IMANI has also now also added his voice to the issue, saying those in charge of the country, whom we call 'our leaders' 'have gone mad again.'

He wrote on his Facebook wall sighted by MyNewsGh.com;
"When the motorway has no street lights, and roads are full of holes, and we have less than 100 ambulances, Government has approved $1.5M (6.5 million cedis) for road safety education!! Our leaders have gone mad again!! Until you fix the road dont come and tell me you are educating who?????" He wrote.

We want to refresh your mind on APlus' full post vis à vis Mr Bentil's:

A Plus wrote;

"Africa's Problem in most cases are common sense issues. We pay road fund. When you buy prepaid you are charged streetlight levy. Apart from that we pay toll on the motorway. Can you imagine how much money is realised from toll on the motorway daily? Yet there is not a single streetlights on the motorway. Then you read that government has approved 6.5 million Ghana cedis for road safety campaign. We are going to campaign and tell people that what? They should be careful when driving in the dark? Maybe we can start with social media. Post this hashtag as many times as you can. It does not cost a thing to post this. I rather saves lives".