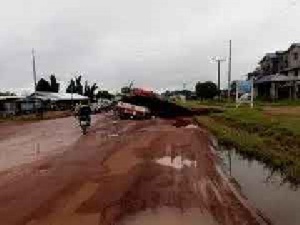 Tue, 9 Oct 2018 Source: Kolog Bonaventure
Chairman of ruling government New Patriotic Party (NPP) for Upper East Region, Lawyer Anthony Namoo has disclosed that 13 million cedis budgeted for the construction of the Bolga-Bawku road have been balanced by Brazilian company Quiero Galvao.
Speaking on Yem FM, the Lawyer by profession said the money was paid to Quiero Galvao since the NPP resumed into office but channelled the money to a different source, due to debt by the government according to the Brazilian company.

However, contractor working on the road, Quiero Galvao halted working for lack of funds to complete the stretch of road awarded to them.

Meanwhile, the monies were diverted by the Brazilian company on its own accord to settle a different debt owed it by government for a different work done.
"The Bawku road was issued before cabinet, they discussed it. There was no funding, it was when NPP came to power that about 13 million cedis were paid. But even when that money was paid, the Galvao said, the government is owing them somewhere. They used the money to balance that place".

When questioned if that act by the company is applicable in law, this what Chairman had to say.

"It's a company and is the same entity. There is no legal bar to that effect. They were right in doing so", he fumed.
Source: Kolog Bonaventure