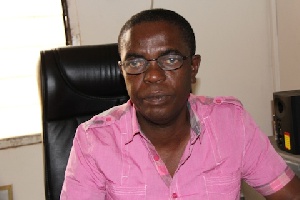 The "civil war" in the National Democratic Congress is because 15 people have expressed interest in becoming the party's flagbearer, the managing editor of the Insight Newspaper, Kwesi Pratt, has revealed.
Speaking on Peace FM's Kokrooko Show Friday, the avowed Nkrumahist said a source with deep knowledge about those interested in the position told him.

His comments follow weeks of internal bickering for the soul of the party by leading members.

Speaking in Twi, he said: "As we sit here, there are at least 15 people who want to be presidential candidate of the NDC. Only one has been bold to sit in this studio to say he will contest. [Nii Amasah] Namoale is the only person who has expressed interest for the position. The rest are campaigning secretly.
"If you ask them on radio, they will say 'it is not time yet, and this is the time to rebuild the party.' After the interview, they begin campaigning secretly. Some are former ministers, some are former chief executives," Mr. Pratt noted. Explaining further, the veteran journalist said part of the confusion in the NDC is that, some accused executives are pushing back against criticisms that they have squandered campaign cash.

"Yesterday I called one of the friends who knows much about what is happening [in the NDC]. I wanted to understanding it. So I asked him, why are you attacking [John Mahama] You know what he told me?

"We have been accused by the [pro NDC] Daily Post newspaper that we [the party executives] have squandered campaign funds. so we have to defend ourselves," he alleges.