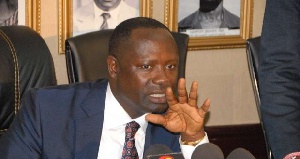 The Akufo-Addo-led government could have done better in the reduction of the Special Petroleum Tax, Emmanuel Kofi Armah Buah, Member of Parliament for Ellembelle and former Minister for Petroleum has said.
The government has announced a two per cent reduction in the Special Petroleum Tax. Parliament on Thursday, 15 February 2018, passed the Special Petroleum Tax Amendment Bill to reduce the tax from 15 per cent to 13 per cent.

The tax was introduced by the National Democratic Congress (NDC) government in 2016 to shore up revenues generated from fuel prices when crude oil prices were low.

However, Mr Buah believes that the current exigencies in the petroleum sector across the international market should have informed the government to reduce the tax by a wider margin.

He told Chief Jerry Forson on the Ghana Yensom show on Accra100.5FM that at the moment, petroleum prices on the international market is high, a situation that has automatically affected the domestic process.

To that end, the Special Petroleum Tax should have been reduced further than the two per cent.
"The government could have done better under the circumstance. Look at how difficult it is for taxi drivers and everyone. Petroleum prices have impact everywhere in the sector of the economy and so if you're a government and you have the chance to reduce the prices, you'll need to do it in such a way that it'll bring relief to Ghanaians. This reduction is not enough at all, I don't think that is what Ghanaians are looking for," he said.

Meanwhile, the Chamber of Petroleum Consumers Ghana (COPEC-Ghana) has also expressed similar sentiment.

Although COPEC-Ghana welcomed the two per cent reduction in the Special Petroleum Tax, it doubts this action will bring respite to Ghanaians.

Duncan Amoah, Executive Director for COPECG–Ghana said: "We were of the estimated view that the Special Petroleum Tax should have been scrapped completely but that's why I said the gesture itself to appreciate that fuel prices are way too high, fuel prices will have to come a bit down for Ghanaians, that gesture, and the urgency with which the Finance Ministry through the honourable Kweku Kwarteng have gone to parliament to get this amendment done awaiting presidential accent is commendable.

"Unfortunately, the impact is not too significant to bring fuel prices down to the level that our pockets would have been happy accommodating. We're still keeping an eye firmly fit on pump prices; we'll keep an eye on the stations across the country. If in the coming days prices continue to go down for all of us as we are all hoping for, I'm quite certain we'll all be happy in the country…government has done some bit it could do but we'll be hoping they will go a step further to manage our fuel pricing in the country."