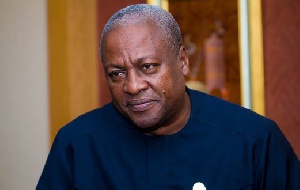 Former President John Dramani Mahama cannot beat Nana Addo Dankwa Akufo-Addo in the 2020 polls if the two gentlemen seek re-election on the tickets of their respective parties, Dr Kwesi Amakye, a political science lecturer at the Kwame Nkrumah University of Science and Technology (KNUST) has said.
His comment comes on the back of a hint dropped by Mr Mahama that he will contest for the NDC's flag-bearer slot ahead of the 2020 elections.

The former Ghanaian leader, in a Facebook post, said he would not disappoint the National Democratic Congress (NDC) supporters who have been calling on him to contest for the leadership race.

"To you, the teeming supporters and sympathizers calling and requesting me to declare my intentions for the future, I wish to assure you today, that as a servant-leader, I have listened to your calls and reflected. I will not disappoint you even as we await the publication of the party's guidelines for selecting a new leader," his post read.

Speaking about Mr Mahama intentions on the Executive Breakfast Show (EBS) on Class91.3FM on Monday, 21 May 2018, Dr Amakye said although Nana Akufo-Addo has not delivered on many of his promises, Mr Mahama is not ready to take Ghana forward because he has not made any admission for his mistakes during his term as president when corruption thrived.
He said: "What are the chances [of Mahama]? Assuming Nana Addo Dankwa Akufo-Addo, in spite of his age because of which I don't think he should stand…but given that, I don't think president Mahama is going to be able to do better than Nana Addo Dankwa Akufo-Addo in 2020 if the two of them stand. I don't think president Mahama will do better. Nana Addo has not really delivered on many of his promises but [Mahama cannot do better]."

In his opinion, the return of Mr. Mahama will not be in the good interest of Ghanaians but rather good for NDC politics.