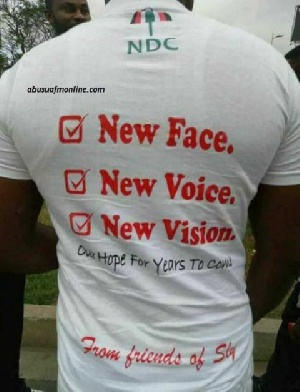 The race for who leads the main opposition National Democratic Congress has taken another dimension as supporters of two leading members of the party have subtly 'outdoored' ambitions of their political icons to contest for the party's flag bearer slot.
The two leading members, Sylvester Mensah served as Member of Parliament during Jerry John Rawlings administration and as Chief Executive of the National Health Insurance Authority under Atta Mills/John Mahama administrations respectively while Nii Amassah-Namoale, a former Member of Parliament also served as Deputy Minister for Fisheries.

Their presidential ambitions have been speculated since the NDC suffered a humiliating defeat at the polls in the December 2016 presidential elections.

The party's candidate, John Dramani Mahama lost to veteran opposition leader at the time, Nana Akufo Addo in a political race that was largely dominated by issues relating to corruption, energy crisis, high cost of living and the promise of a Free S.H.S by the then opposition.

The NDC, during a fact finding mission identified polarisation, neglect and apathy among other factors that largely contributed to the party's defeat at the poll.s

As part of campaign to unite and rebuild the opposition National Democratic Congress (NDC), the party embarked on a unity walk today Thursday September 21 in Ghana's national capital, Accra.
The second edition of the Unity Walk formed part of the strategies by the party to re-organise grassroots support to position the NDC as the obvious political party going into the 2020 general elections.

The Unity Walk in Accra is themed: "Mobilisation of the grassroots; a shared responsibility".

It comes on the heels of a successful one held earlier in the month in the Northern Regional capital, Tamale which was patronised by leading figures of the party including the former president, John Dramani Mahama.

At the 'Unity Walk', abusuafmonline.com's cameras captured supporters of the two leading figures wearing branded t-shirts of their icons indicating intentions to contest in the party's yet to be decided date for flag bearer contest.

Supporters of Amassah-Namoale wore shirts with the inscription "I Believe In Change" while those of Sylvester Mensah wore shirts with the inscriptions "New Face, New Voice, New Vision-Our Hope For Years To Come…From Friends Of Sly."
Nii Amassah-Namoale was captured by our lenses riding on a horse to a loud cheers from his supporters indicating he probably will be in the contest for the party's leadership.