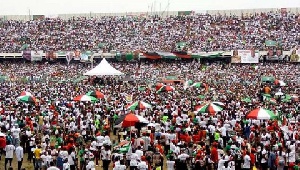 A former deputy Chief of Staff John Osei Kofi says the 2020 elections will be warfare between the opposition National Democratic Congress (NDC) and the ruling New Patriotic Party.
According to him, the NDC will not allow itself to be intimidated by vigilante groups associated with the ruling party again.

"The empowered NPP vigilante group Delta and Invisible forces in Ashanti also have brothers and family members who also belong to the NDC, so what is going to happen is that the NPP and NDC guys will like to protect themselves therefore there will be blue on blue, a military term which means brother on brother because of political interest, '' he noted.

He said although such an action might threaten the security of the state, it is necessary for fairness in the polls.

"The national security has already been threatened long ago by the NPP even when the NDC was in government, so as for national security it's under serious threat, but one thing they have to know is that, in modern warfare conflict, there's no winner and everybody will face the pinch, hurt and people from both side will die .

"So am telling you it not necessary to entertain the Delta forces, the invisible forces and so on, the NDC could also put out forces".
Meanwhile, former President John Dramani Mahama has described the 2020 general elections as a final match between him and familiar political rival, President Nana Addo Dankwa Akufo-Addo.

Referring to the 2012 polls as "a title fight" and the 2016 elections as "a rematch", Mahama called the 2020 polls "a decider" and predicted the tiebreaker would return him to the helm of government.

Mahama won in 2012 as a first-timer on the ticket of then governing National Democratic Congress (NDC), securing a 5,574,761 votes that represented 50.7%. Akufo-Addo, Ghana's main opposition leader at the time and presidential candidate of the New Patriotic Party (NPP), got 5,248,898, representing 47.7%.

"They say, 'Why are you bringing your former president? NDC, don't you have people?' And we say you, too, didn't you have people? In 2008, you brought somebody. Professor Mills defeated him. You should have brought a fresh face.

"You brought him again in 2012. John Mahama defeated him. You should also have brought a fresh face. And you brought him again in 2016 and it's only at that time he won. So, fine. He was defeated several times; you still brought him. And this is what you call a title fight," Mahama told NDC delegates and supporters in the Bolgatanga Central Constituency during his just-ended tour of the Upper East region.