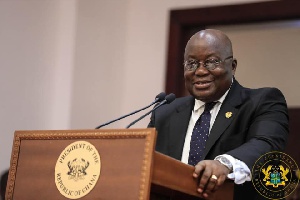 President Akufo-Addo has disclosed that 21 people are being tried for various forms of corruption by his administration.
According to him, claims that the Attorney General has been ideal with the fight against corruption are baseless.

Speaking to some Ghanaians living in Canada, where is visiting, the President said he is following due process in the fight against corruption.

"People are saying there are no prosecutions. Twenty-one people are on trial in Ghana today for corruption. Corruption, what does it mean? The simple word for corruption is stealing, it's theft and there are people on trial as I speak today.

"One of the things that I am not prepared to do under any conditions is to do away with due process. I fought for it all my life in Ghana that we will have a State in Ghana which recognizes and accepts and acknowledges due process as a fundamental instrument of state policy," he noted.

He said Ghanaians should have patience in the judicial process to deliver justice and fairness to all.
"So, putting somebody before the court and that person is making application after application – whether it is to delay the process or whether the applications are genuine – you have to recognise his right to do it.

"And it is when those are exhausted that the trial can begin. Some of the trials have started. Those that were started, efforts were made to stymy them by going to the Supreme Court, the Supreme Court dismissed those efforts and the process is ongoing".

The Special Prosecutor Office which set up the Akufo-Addo government has come under attack for its slow pace at prosecutions.