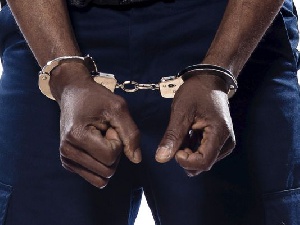 Five suspects have been arrested by the Damongo district police command for attempting to kidnap a 14-year-old boy in the Tinga community near Daboya in the North Gonja district of the Savanna region.
The suspects, Alhassan Abdulai, 18; Alidu Toufic, 25; Osman Rashid, 19; Amidu Hafiz, 20; and Amadu Abdul Hak, 21; are all weavers from Daboya.

The public relations officer of the northern regional police command, DSP Mohammed Yussif Tanko told Class91.3FM's correspondent Mohammed Gadafi that the suspects were arrested by the community members when the victim raised an alarm.

According to the police, the suspects denied attempting to kidnap the 14-year-old boy but two of them admitted visiting the area at about 6 p.m. on Sunday, 23 June 2019 on two separate motorbikes in search of a white guinea fowl for rituals at Tali No.1 near Daboya.

According to the suspects, they asked the victim to direct them to a Fulani settlement in the village where they could get a white guinea fowl. They only succeeded in getting the bird while returning to Tali No.1 and later performed the rituals.
The victim, however, explained that the suspects carried him on their motorbike along to the Fulani settlement but failed to stop upon reaching that destination.

The teenager said he jumped off the motorbike and raised an alarm but the suspects absconded. They were later arrested at about 10 p.m. by some residents when they spotted them on three motorbikes on their way to Daboya and subsequently sent them to the chief's palace.

DSP Tanko said the suspects are still in police custody for further interrogation. He added that the said motorbikes have been impounded at the Daboya police station and five mobile phones have also been retrieved from the suspects and kept as exhibits.

A sixth suspect, however, managed to escape.