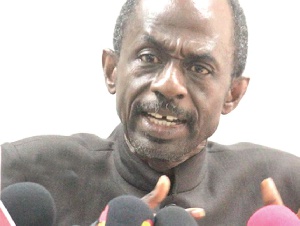 The Akufo-Addo-led government has wasted over $6 million on private investigations aimed at nailing appointees of the erstwhile John Mahama government, the main opposition National Democratic Congress (NDC) has said.
According to the NDC, although state agencies such as the Economic and Organised Crimes Office (EOCO) are already probing some former appointees, the government paid some private firms to do the same jobs at a huge cost to the taxpayer.

Speaking at a press conference in Accra on Tuesday, 2 October 2018, the General Secretary of the NDC, Mr Johnson Asiedu Nketia, said: "The NDC has credible information that an amount of, at least, $6.8 million has so far been paid by the NPP government under President Akufo-Addo's watch, to these private firms to carry out work that's already being done or has been completed by state agencies.
"Meanwhile, the taxpayers' money is being spent on state agencies like the Bureau of National Investigations (BNI), the Criminal Investigations Department (CID) of the Ghana Police Service, the Economic and Organised Crimes Office (EOCO), the Special Prosecutor's Office, the Auditor-General's Department and the Attorney General's office. Any of these [institutions] could have carried out these audits."

Mr Nketia noted that the NDC can prove that some ex-appointees belonging to the party have received letters from some of these private firms to provide answers to the same questions that EOCO and other investigative bodies of the state had already administered to them.