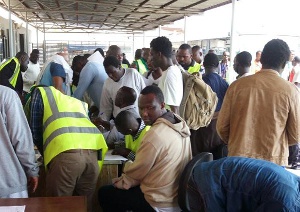 A total of 774 Ghanaians were deported from abroad last year as against 1,278 in 2015 for committing various offences.
The offences included illegal entry, possession of fake travelling documents, overstaying and working without permit.

The countries they were from are Saudi Arabia, 291; United States, 74; United Kingdom and Kuwait, both 44 and Germany, 41.

The rest are Malaysia, 22; Thailand, 14; Italy and Israel, both 13; Egypt, six and 170 for other countries

Chief Superintendent, Mr Francis Palmdeti, Head of Public Affairs at Ghana Immigration Service (GIS), who disclosed this to The Ghanaian Times in an interview yesterday , said within the same period, GIS deported 160 foreigners who failed to comply with immigration and other related laws in the country.

He said about 932,579 foreigners travelled to Ghana annually for business transactions, social and religious activities and tourism.

Mr Palmdeti said GIS thoroughly check the validity of travelling documents carried by the foreigners and their visas, through a designated centre, before they were allowed into the country.
He said the GIS was committed to ensuring that foreigners who stay in the country do not disobey the law and disturb the peace of citizens.

Highlighting some challenges facing the GIS, he said personnel work in structures that do not conform to international standards, explaining that "the buildings at the borders are old and weak, there are no facilities for people detained for disobeying the law and other problems," he said.

In addition, Mr Palmdeti said GIS lacked logistics such as motorbikes, and robust vehicles to discharge its duties effectively, adding that "because most of the road networks at the borders are in bad shape, the inadequate logistics affect effective border patrols and others activities."

He suggested the need for government to consider border fencing of Ghana's land to prevent unauthorised movement and other border abuses.

Mr Palmdeti called on citizens living along the border to desist from engaging in smuggling because that do not help in the development of the country.