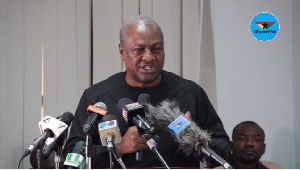 Eighty(80) out of the total of 106 National Democratic Congress (NDC) members of the seventh Parliament of Ghana have hinted of a possible protest against former president John Dramani Mahama, should he decide not to present himself for the 2018 internal presidential contest and subsequently for election 2020 on the ticket of the NDC.
Confirming the intent of the Legislators, Dr Clement Apaak, a former presidential staffer and now Member of Parliament for Bulsa South in an interview said, it's true about eighty of them went to the office of the former president.

He said although they did not meet the former president, they met his Chief of Staff Julius Debra and accordingly left with him the essence of their visit.

"The rationale behind our visit was simple; it was to remind him that he has a course to accomplish', he disclosed.
According to him, some of the remaining 26 MPs got angry with them for not involving them on their visit.

Dr Apaak claimed should they conduct elections amongst minority MPs on who to lead the NDC, John Mahama would clinch not less than 95 of the 106 Legislators.