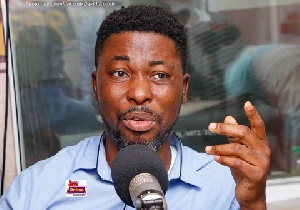 Information available to YEN.com.gh shows that officials of the Bureau of National Investigations (BNI) have twice been to the home of musician and known New Patriotic Party (NPP) supporter, Kwame Asare Obeng.
According to a report by MyNewsGH.com, Obeng, also known as A Plus, was not home on both occasions.

YEN.com.gh understands that three officers, together with a policeman initially visited the house, which is an estate.

They reportedly informed the security official at the main entrance that they were searching for someone else, but proceeded straight to A Plus' apartment once they gained entrance.

They knocked on the door, asked to see him and later left when they were informed he was not home.

They allegedly returned at dawn to the house to see him, again demanding to see him, but he was not available.
A Plus further revealed that he called the minister of national security on phone to establish the reason behind the unannounced visits.

He was then assured that checks will be conducted to establish the reason behind the visits.

The minister later called to inform him that there are no records of approval of such visits, and for that reason he needs to beef up his security.

Upon his return from London, he was informed that the people who came to his apartment are from the BNI and that they had been tasked by the director to invite him over for a friendly chat.

This caused him to wonder why the director could not simply call him on phone, and the reply was that the director could not locate his number.
A Plus was recently in the news after his exchanges with the Director-General of the Ghana Maritime Authority (GMA), Kwame Owusu, caught the attention of Ghanaians.

He reportedly threatened to reveal serious secrets about Owusu and went ahead to dare him to report his threat to the police, especially if there is evidence of blackmail.