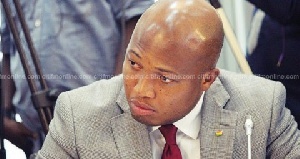 Flagbearer aspirant of the National Democratic Congress, Alban Sumana Bagbin, has described some appointments by former President John Mahama as 'bad' leading to the defeat of the party in the 2016 elections.
Bagbin, who is also the Second Deputy Speaker of Parliament, speaking to delegates in the Volta Region, stated that former Deputy Education Minister in-charge-of Tertiary Samuel Okudzeto Ablakwa was unfit and not qualified for that post.

"We had very good material in our last government but the placement was wrong. Look at my son-in-law Ablakwa; brilliant handsome young man but he had problems before he got his certificate at Legon. You recall they almost rusticated him.

"After he came to do his national service in Parliament and joined politics, he was made a deputy Minister for Education in Charge of Tertiary. [So for] the lecturers, what are you telling them? Some of these decisions affected us a lot," Mr. Bagbin said.

Meanwhile, the National Organiser of the NDC Kofi Adams has accused Mr. Bagbin of plotting to destroy the largest opposition party.
According to Adams, Bagbin's "blackmail, [and] destruction" of a party he claimed he wants to lead into the 2020 elections "will not wash."

Former Chief Executive Officer (CEO) of the National Health Insurance Authority (NHIA), Sylvester Mensah, Dr. Ekow Spio Garbah; Former Vice Chancellor of the University for Professional Studies, Accra (UPSA), Prof. Joshua Alabi and Kweku Ricketts-Hagan, are among the NDC members who have declared their intention to contest for the slot to lead the party ahead of the 2020 elections.