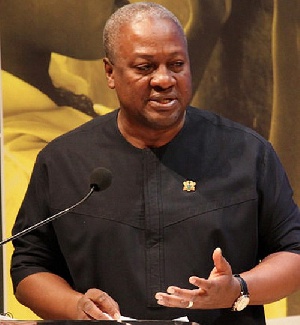 Brong Ahafo Regional Vice Chairman of the New Patriotic Party (NPP), Kwame Baffoe, popularly known as 'Abronye DC,' has lambasted ex-President John Mahama for being deceptive about road construction in the region.
His comments follow Mr. Mahama's reported claim that "Akufo-Addo had abandoned Kwame Danso-Atebubu Road in the Brong Ahafo Region.

The ex-President, after accusing President Akufo-Addo, went on to say that the abandoned road was "dear" to his heart.

But Abronye DC believes that Mr. Mahama is only seeking to carry on his age-old tradition of telling Ghanaians 'lies' by claiming that Akufo-Addo had abandoned the Kwame-Danso-Atebubu Road.

In an article, which was in direct response to the former President's accusation, Abronye DC recounted that "prior to the 2016 general election, it will be recalled that Prez Akufo-Addo affirmed his commitment in constructing most deplorable roads in the country and accused Mr. Mahama of not fixing roads he and his administration had taken money for."

According to him, "Mr Mahama, in response, accused Nana Addo, the then flagbearer for the NPP, of sleeping anytime he's on those roads and he made it known that he (Mahama) had fixed most of the roads in Ghana."
He sarcastically wrote that "today, we have this same person accusing the one who's always sleeping for abandoning deplorable roads. I am glad he has now realised Prez. Akufo-Addo wasn't sleeping."

Abronye DC said that "John Mahama never fails to disappoint. He always disappoints me whenever he speaks."

According to him, "The attitude of saying pathological lies has been part of him and I am not sure John Mahama can ever depart from spreading lies."

In setting the records straight, Abronye DC said on Wednesday 6th April 2011, the late former Prez J.E.A Mills cut the sod at Kwame – Danso in the Sene District of Brong Ahafo Region for work to commence on the 31-kilometer Atebubu-Kwame Danso Road.

During the event, he explained, the late Atta Mills promised that the project would be completed within two years by a Wa based road construction company, A and N and would cost GH¢32 million.
On that day, according to Abronye DC, most of the sub-chiefs present at the occasion presented sheep to the president to appreciate his good intentions for the community.

The late President JEA Mills and Joe Gidisu, the former Minister of Roads and Highways, left the venue with not less than 75 sheep.

"Unfortunately, Atta Mills could not complete his term as president. John Mahama, however, took over from him and we all expected him to continue the works commenced by his predecessor but he deliberately disregarded same," Abronye noted.

It must be indicated clearly that upon assumption of office as president by Mahama, the road had already been awarded to a contractor and that all what was needed was to fund the contractor to enable him execute same, he said.

Neglect
Abronye DC disclosed that "since John Mahama took over as president, he neglected the people of Atebubu and decided not to facilitate the construction of that road."

He added that "they however took steps to discourage the contractor on site by not providing him with the necessary resources and funding because it was alleged that the contractor had issues with President Mahama."

"I would like to submit that during Mahama's five-year tenure as president, the people of Atebubu were not dear to his heart and that was why he decided not to construct the road for them, and therefore I treat his recent comments which depict that he now cares about them as insults and an attempt to ridicule the chiefs and people of Kwame-Danso and Atebubu," he indicated.

"My simple question to Mahama is that if in five years as president he could not construct that road, why is he slamming a 20-month Akufo-Addo administration to construct the same roads?" he quizzed.

He admitted that "there is no doubt that the Kwame–Danso – Atebubu road is one of the most deplorable roads in the Brong Ahafo Region. The road, in recent times, has become a catalyst for armed robbery attacks on traders, market women and residents."
He pointed out that upon security reports made to President Akufo -Addo, he instructed that money be paid to the contractor for him to start work immediately.

Currently, there is a contractor on that road working, only a pathological liar and hypocritical minded person like Mahama will make such an assertion that the road has been abandoned," Abronye DC stated.

'Show us your roads'

Abronye DC, therefore, challenged former President Mahama to show all the roads he claimed to have constructed in the Bring Ahafo Region during his tenure in office as captured in the National Democratic Congress (NDC) so-called "Green Book," which seems to be a complete album filled with many non-existent projects the party claims to have executed.