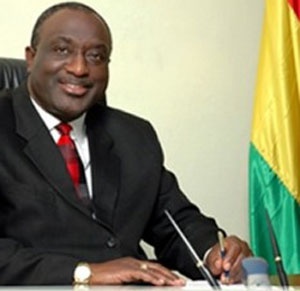 Thu, 30 Nov 2017 Source: Ghanaian Times
The eighth Biennial Union of African Shippers Councils (UASC) African Shippers Day celebration has been held here in Accra.
The event was held under the theme, 'Trade facilitation and its impact on Africa's industrialisation.'

Speaking at the opening ceremony, Alan Kyerematen, Minister of Trade and Industry, noted that, for Africa to industrialise and diversify its economies, there would be the need to pursue value addition for its exports and to systematically reduce its import dependency through import substitution.

This, he noted would require structural reforms including trade facilitation measures that eliminate non-tariff barriers, reduce trade costs, and ensure competitiveness for shippers and manufacturers.

Considered the spine of any effective trade facilitation, the minister said shippers who generates international trade must be supported with policies and efforts to ensure they remain competitive.

A competitive shipper, he said would translate into a competitive industrial sector if other measures are in place adding that shippers need education, training and useful trade information in order to grow their businesses as well as being supported by effective transport links at optimum costs.
He urged the shippers' councils to continue to engage the shipping companies and other shipping service providers to ensure that shippers are not short-changed in their international trade and transport transactions and have the necessary support to grow into entities that can negotiate shipment prices and conditions on their own strength.

He called for a more collaborated efforts among the Shippers' organisations to ensure a common front in their dealings with the very strong shipping service providers, on behalf of our shippers.

The Minister of Transport, Kweku Ofori Asiamah, said the availability of transport and logistics infrastructure was needed to support government's industrialisation drive.

He said this was the reason for the current transformation of the country's port infrastructure through expansion projects at the ports of Tema and Takoradi in order to make them more competitive and position them as hub ports for the sub-region.

The government, Mr Asiamah said embarked on removal of customs barriers along the country's transit corridors, paperless transactions at the country's ports and trade chain and a mandatory joint inspection of imports at the country's ports to improve the efficiency and effectiveness of the transport and logistics chain along the transit corridors of Ghana.
He reiterated government's commitment to build an industrialised and resilient economy, anchored on efficient trade facilitation measures, which would support the operations of shippers in Africa through a reduction in transport cost, decrease in delays, use of electronic data interchange, ensure ownership of shipping lines by Africans, transformation of the transport and logistics sector and improvement of trade competiveness in the global value chain.

Madam Benonita Bismarck, Chief Executive Officer, Ghana Shippers Authority, explained that the Shippers Day adopted by the Union of African Shippers' Councils (UASC) was primarily to celebrate the efforts and achievements of importers and exporters in propelling trade and development in the sub-region.

She said it was also a platform for interaction among primary players in the international trade and transport chain including exporters and importers, ship owners, port authorities, freight forwarders and other ancillary services.

She called for a concerted effort and collaboration with well-thought strategy in dealing with the challenges which include the multiplicity of agencies in the cargo clearance process, ineffective risk management systems facing shippers in Africa.

She was however optimistic that the coming into force of the World Trade Organisation (WTO) Trade Facilitation Agreement would continue to bring to the fore the obligations on the part of governments in creating a congenial environment for businesses to thrive.
Source: Ghanaian Times