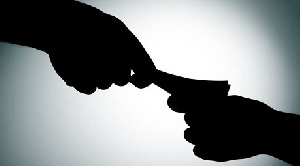 African leaders in positions of trust have been advised against abusing such positions as it could impede economic growth, distort competitions, inhibit development and productivity and undermine the rule of law and good governance.
This was contained in a joint statement issued by Gomoa West DOC of the African Peer Review Mechanism (APRM), United Nations Association-Ghana, Global Peace Mission and Civilian Institute of Democratic Administration, Ghana and Nigeria at Saltpond and signed for and on behalf of all the associations by Dr. Mark Nii Lamptey, Chairman Gomoa West DOC of the APRM to commemorate the 2018 AU Day celebrations.

AU theme for the celebration was "Winning the fight against corruption: A sustainable part towards Africa's transformation", and Sub themed "Calming the rage of corruption in Africa-The key to Sustainable Development".

The statement said the search for a peaceful continent could not be achieved without winning the fight against corruption since corruption was fueled most of the time by many in leadership positions.

"It is clear that corruption is a major contributory factor instigating state volatility and violent conflicts and for that, we are calling on the government to put in place drastic policy measures now to reduce the impact of corruption on state stabilities".

They stated that corruption obviously had been cited as one of the key hurdles to improving democratic governance of nations of the world saying the fight against corruption in Africa had so far yielded little effects in eliminating the scourge of corruption.
"In many African Nations like the case in Nigeria, the fight against corruption in the Public Service has been partisan, sentimental and lacking a clear sense of direction and as a result, the fight has been fruitless to the point, where people in leadership positions without fear, divert funds from public coffers so long as they belong to the same caucus of the ruling parties".

The statement suggested that to combat corruption scourge in African countries in order to boost the external image of the African continent, there should be reforms focusing at improving financial management and strengthening the role of auditing agencies.

They indicated that leaders must be properly scrutinised before being voted into public office to form the bedrock of the anti-corruption war where everyone in leadership position of influence would be in unison of purpose and speak with one voice against corruption.

The statement further indicated that "To defeat corruption menace, there had to be obvious sanctions for culprits involved in corrupt acts, through the efficient enforcement by the judiciary and the law enforcement agencies.

"Fighting corruption also requires a partnership between the state, civil society and the citizens, while the state provides an effective legal framework to fight corruption, civil society ought to be firm to also provide relevant information for uncovering corruption practices in the society", the statement added.