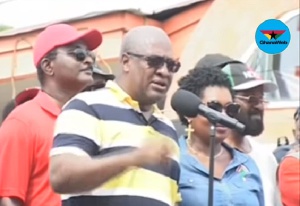 National Organizer of the opposition National Democratic Congress (NDC), Mr. Kofi Adams has debunked claims by former Majority Leader in Parliament and Second Deputy Speaker, Hon. Alban Sumana Kingsford Bagbin that former President John Dramani Mahama hijacked the party after the 2016 polls.
"Hon. Bagbin was complaining that President Mahama has hijacked the party. …President Mahama has not hijacked the party, he is a good party member who feels that he must support the party's efforts", he stated.

According to the embattled National Organizer, the opposition NDC currently needs support to wrestle political power from the ruling New Patriotic Party (NPP) in 2020 and former President Mahama is the person to unite the people for support.

"If any other person has funds and wants to support we are willing to receive that", Mr. Kofi Adams told host Evans Mensah on Top Story on Joy FM.

"Our party members need support and we are asking them to come and support the party and stop what they are doing", the National Organization fumed in a telephone interview.

Mr. Kofi Adams accused by some members within the party for divulging confidential information rather accused persons seeking to lead the party for the 2020 polls of causing divisions within the party.
"They are destabilizing the party, distracting the focus at the time we should be exposing all the maladministration in the NPP", Mr. Kofi Adams stated.

He disclosed how most of them have failed to contribute towards the reorganization of the party they want to lead but rather making comments aimed at disintegrating its front.

He mentioned Bagbin and Sylvester Mensah as those who were approached by leaders of the party but have refused to contribute in any way towards solidifying the fortunes of the party ahead of the 2020 elections.

"We approached all of them and no one was willing to contribute to the reorganization of the party. And I am daring you to ask them if they have contributed in any way towards party reorganization", he dared on Joy FM.