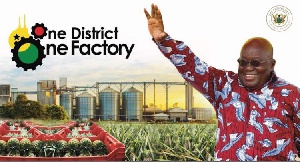 The Ajumako-Eyan-Essiam District (AEE) is yet to receive business proposals by private investors for the "One District, One Factory" (1D1F) industrialisation policy over the last 15 months, Reverend Ransford Kwesi Nyarko, the District Chief Executive (DCE) has said.
He explained that an investor who showed interest to setup a factory failed to follow up his intention with a well laid-out business proposal regardless of the Assembly's efforts to reach out to him and to offer the necessary support.

The District is endowed with cassava, coconut, cocoa and citrus fruits. It also has large arable lands for agriculture and other purposes.

The DCE has therefore called on investors both local and foreign to take full advantage of Government's industrialisation agenda to invest in utilising local resource endowments to boost its economy.

Speaking at the Second Ordinary Meeting of the Assembly held on Tuesday at Ajumako, the DCE highlighted the important role the private sector had played in providing basic economic empowerment to improve the livelihoods of the people.

He reiterated the Assembly's commitment to ensure peace and security with congenial business environment as the bedrock for attracting local and foreign business investments to foster growth and development.
This, he noted was the surest way to support the District to drive its accelerated development agenda, create employment and generate more revenue to finance infrastructural development.

In the meantime, he announced the Assembly's unwavering determination to source for funds to facilitate the construction of a cassava processing factory into flour, starch and other products.

The move was in compliance with Government's policy of encouraging the cultivation of at least one exportable agricultural produce in every district under the 1D1F industrialization policy.

The Assembly had also prioritized the promotion and cultivation of carefully thought-out three special cash crops including cocoa, coconut and oil palm plantations to create employment and reduce poverty in the District.

In the light of the District gaining its status as a cocoa growing area since 1983, he said the Assembly in collaboration with the Ghana COCOBOD would supply more than 1.5 million free hybrid cocoa seedlings to farmers in the area beginning September 2018 to boost cocoa production especially among the youth.
In addition to that, it would establish three new seed production nurseries at Obrawogum, Abaasa and Fawomanye with 6,000 production capacity, while expanding the existing seed production sites at Ochiso and Essiam with increased production capacity from 490,000 to 900,000.

It would also renovate cocoa offices across the District to reach out to farmers with timely information and a host of other comprehensive services to farmer to increase production.

Mr. Nyarko assured that the Assembly would continue to work hard to woo more investors to establish businesses in the area to create wealth and jobs for the people.

Present at the meeting were several heads of decentralized departments who addressed the house and answered questions on pertinent issues in the area.