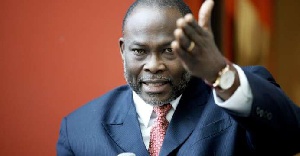 Former Trades Minister and National Democratic Congress' (NDC) presidential hopeful, Dr. Ekow Spio-Garbrah has said, President Nana Addo Dankwa Akufo-Addo deserves one term.
According to the communication specialist, the demise of former President John Evans Fiifi Atta Mills while in office was the beginning of one-term presidency in the country breaking the two-term convention.

"We are now in the era of one term presidency", the astute politician on Good Evening Ghana told host, Paul Adom Otchere in a one-on-one interview.

"Even though in the past we were used to serving two terms-former President Rawlings served two terms; former President Kufuor also served two terms", the former Ghana's ambassador to the United States under Rawlings' regime pointed out.
"But with all due respect, the unfortunate demise of President Mills opened up the door of one term. …and that I think also in a certain physiological way made it easy for the people of Ghana to say let President Mahama also sit down even after one term".

"We have now arrived at the era of one term presidency and that is why President Akufo-Addo must also serve one term", Dr Ekwow Spio-Garbrah explained.

The NDC guru also used the platform to lash out at the government for doing little to curb vigilantism which according to him, has become rife in the current government in the last ten months of their administration.