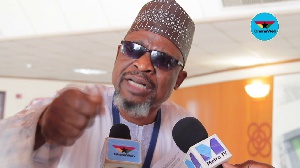 The Minority Spokesperson on Communication in Parliament, Alhaji A.B.A Fuseini has accused President Nana Addo Dankwa Akufo-Addo of shielding his "corrupt friend" who is the Director General of the Ghana Maritime Authority (GMA), Mr. Kwame Owusu.
Alhaji A.B.A Fuseini who is also the Member of Parliament (MP) for Sagnarigu constituency in the Northern Region, said the president is responsible for the alleged corrupt act of Mr Owusu because he (the President) has shielded his appointees in the past adding that, anytime they commit offenses, Nana Addo tries to clear them through the back door.

His comments were in response to the President open declaration that he will not shield any corrupt appointee who is found and will allow the laws to deal ruthlessly with such a person to serve as a deterrent to others

On a local radio in Kumasi MyNewsGh.com monitored, the former Deputy Northern Regional Minister noted for his versatility in proverbs which almost landed him in trouble in his constituency, said contrary to the president's declaration, he appears not to be helping in the fight against corruption in the country as he professes.

"When you have made a treacherous comment like this and Ghanaians are asking questions, is the kind of answer you give", A.B.A Fuseini quizzed the Maritime Boss over his over one million Ghana Cedis renovation and 13 air conditioners

"He knows nothing will happen to him because he is an appointee of Nana Addo and the government will clear them of any corrupt and scandalous act that is the reason he why speaks so arrogantly" he observed
Alhaji A.B.A Fuseini argued that if the Maritime boss was of the view the president will not tolerate corruption he wouldn't have shown such disrespect to Ghanaians in the first place during his press conference to address issues about the lunch and the end of year dinner cost among others.