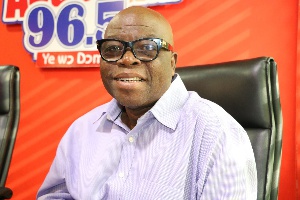 A fierce critic of former President Jerry John Rawlings and a member of the National Democratic Congress (NDC), Alhaji Mohammed Sani allegedly declined an invite to campaign for the party during the last general election.
"Alhaji Mohammed Sani rejected an invitation to campaign in the 2016 polls", Deputy Ashanti Regional Organizer of NDC, Isham Mohammed alleged.

Alhaji Mohammed Sani, onetime Ashanti Regional Vice chairman of the party is said to be a torn in the flesh of current executives of the party at all levels blaming them for the party's hefty defeat.

According to the aspiring Ashanti Regional Chairman of the party, the current executives of the party must be blamed for the situation the party finds itself currently.

"The current executives are problematic. They sat in their comfort zones and never campaigned to ensure the party retains power", the aspiring chairman accused.
Responding the allegations on Kumasi-based Nhyira, the Regional Deputy Organizer also accused Alhaji Mohammed Saani of neglecting the party after losing position in the party as Regional Vice chairman.

"We invited him to join the campaign but he never honoured it. …I personally called him and he did not come. He just neglected the party at all levels", the Deputy Organizer revealed to host, Kofi Asante Enning.

"We cannot allow detractors to take chairmanship positions in the party", the Deputy Ashanti Regional Organizer assured.