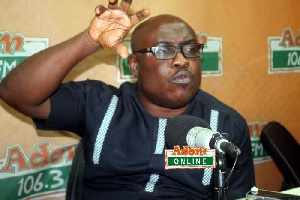 Deputy National Communications Officer of the National Democratic Congress [NDC], Kwaku Boahen has emphatically stated that all institutions in Ghana do not work per the appropriate laws and regulations binding them.
Rather, they work to favour the particular government in power, creating lots of mess and questionable decisions in government institutions.

He bemoaned politics in Ghana has taken truth out of a lot of people, leaving them to say and act for their selfish interest, and not thinking of any other Ghanaian but what their party or they as individuals will gain.

"Indeed, all institutions in Ghana are in the pocket of the President and his government, therefore, authorities of various institutions operate in the set up that will suit the government in power and not according to the laws binding the office they occupy," he said.
To him NPP has adopted a deliberate and lazy approach to collapse private sector businesses of persons they believe are members of the NDC and rebuild those companies for their NPP counterparts.

"If the fundamentals are poor and the economy is weak these are some of the consequences we face, an adage they used against us [NDC] is now boiling at them," Kweku Boahen indicated.

The NDC Deputy National Communications Director in an interview on UTV's 'Adekye Nsroma' programme insisted "the numerous travels by President Akufo-Addo's appointees fortified the increase in the dollar against the cedi because they use dollar currencies in most of their trip, the reason behind the President's ban on foreign travels".