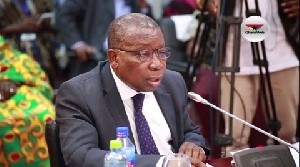 Health experts are calling on the Government of Ghana to allocate an adequate budget for the running of the University of Ghana School of Public Health, following the cut in subventions by the donor agencies.
According to the Dean of the University of Ghana School of Public Health, Professor Richard Adanu, and clinical epidemiologist professor for University of Health and Allied Sciences, Professor Fred Binka, with Ghana's new middle-income status, subventions and financial support from donor partners have ceased.

Speaking at the 1st Scientific Conference by Ghana Field Epidemiology and Laboratory Training Programme in Accra, Prof Richard Adanu said government ought to be prepared in tackling challenges that come with ascending into middle-income status.

"Ghana has been labelled a lower middle-income economy. With that label, a lot of the support we do have is being pulled back and is being sent to low-income countries so the Government of Ghana has the responsibility to look at the budget and try to replace what is being pulled out from the budget by the donor agencies and replace it.

"Otherwise our health indicators are going to turn to the directions we don't want and Ghana, which everybody speaks about so highly, people are going to ask so what happened to that country?" Dr Adanu said.
Meanwhile, in an exclusive interview with Class News' Jerry Akornor, former Vice Chancellor of University of Health and Allied Sciences and former Dean of the University of Ghana School of Public Health, Prof Fred Binka, said Ghana's health emergency response systems will break down if government does not adequately resource the sector.

"Donors were paying for it but we transited into middle-income economy and the donors have cut their money towards the public health programmes – immunisations, environmental health, training of public health and personnel and surveillance. These are things that the government has to pay for. With our new status now, if government doesn't allocate resources to the programmes, they will disappear. Unfortunately, we will pay a heavy price for it because it has taken a long time to establish some of these programmes," he said.

But, Chief Director of Health Ministry, Dr Afisa Zachariah, told Class News' Jerry Akornor that the Ministry can only work with the budget allocated to it in the face of emerging bottlenecks.

"For the budget we should be real, we deal with what we have and if we are a lower middle-income country and donors are pulling out, we just have to manage what we have and make good use of it so that the people we are training will stay and also contribute their quota and make sure that we make Ghana very safe for everybody," she said.