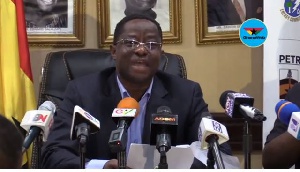 After destroying the small scale miners in the country and rendering them poor, current Energy Minister, John Peter Amewu is now on a mission to destroy drivers in the country, Public Relations Officer (PRO) of the True Drivers Union, Yaw Barima has claimed.
According to him, the recent increment in fuel at the pump attest to his claim and hence called on the Energy Minister to be extremely careful in dealing with drivers in the country.

Energy Minister, John Peter Amewu has maintained that the government has managed the situation better than the John Mahama-led administration would have done.

Mr Amewu told journalists Thursday, that the New Patriotic Party (NPP) since assuming the reins of power 21 months ago, has reduced the Special Petroleum Tax (SPT) twice.

In March 2017, the 17.5% tax was slashed to 15% and in February 2018, it was reduced further to 13%.

The minister said if John Mahama was still president, "Ghanaians would be paying close to between 9% to 10% higher than the current prices". Prices today would have been GHS5.54 for petrol and GHS5.55 for diesel," he added. The prices for both products are currently GHS5.12, Mr Amewu said.

This assertion by the Minister, Yaw Barima speaking on UTV on Saturday as monitored by GhanaNewsPage.Com said is very inappropriate and hence urged the Minister to desist from that.
To him, the response is a clear indication that the Energy Minister is on a mission to destroy drivers and render them poor like he did to the galamseyers.

"We are all in this country and we know what Amewu did to the small scale mining sector, he collapsed it so he is also on a mission to destroy drivers…," he said.

Yaw Barima insisted that the government can still do something about the soaring fuel prices in the country.

"In Nigeria, they buy fuel for 10.00 cedi and Ghana is buying for more than 20 cedis and you are telling us that prices would have been more if the Government had not swallowed some taxes…," he added.