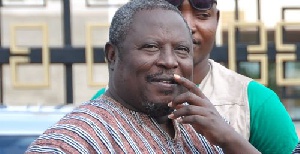 THE national organiser of the National Democratic Congress (NDC), Mr Kofi Adams, has said Martin Amidu's endless viciousness against the party is due to its decision to replace him as its running mate in the 2004 and 2008 elections.
Mr Adams said this yesterday on 'Morning Starr' on Starr FM in his reaction to a recent write-up by the former Attorney General and Minister of Justice in which he chastised the NDC for the internal wrangling at the Electoral Commission (EC).

In the said piece, Mr Amidu alleged that the chairperson of the EC, Mrs Charlotte Osei, was appointed by former President John Mahama to rig the 2016 elections in his favour.

Mr Adams, who was the NDC's 2016 campaign coordinator, however, disagreed, rejecting the claims as baseless.

"For anybody to suggest that some commissioners will work in favour of NDC or against NDC is a non-issue," he stated.
According to him, the allegations by the Citizen Vigilante, as Mr Amidu is otherwise known, were born out of hurt for not being maintained as the party's running mate for series of elections.

"He must wear off the bitterness of not being maintained as the running mate over a number of elections because the NDC would never have tasted victory if he had continued being a running mate," he told Morning Starr host Francis Abban.

"The NDC would have continued to suffer defeat until we saw it necessary to bring in His Excellency John Dramani Mahama to partner our late [sic] President Atta Mills and that gave us victory in 2008, which we retained in 2012," he added.

Prof. Mills chose Mr Amidu as running mate in the 2000 elections, which they lost and he was replaced by Muhammad Mumuni in 2004 and Mumuni was replaced by John Mahama in the 2008 elections.