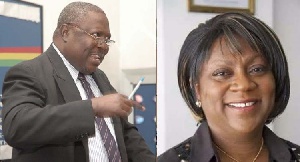 Former Attorney-General, Martin A.B.K. Amidu has served notice to the opposition National Democratic Congress (NDC) that he cannot be cowed into submission in the party in view of the recent avalanche of attacks directed at him.
He said the sudden attacks on his person and that of former President Jerry John Rawlings, founder of the party, are coming from people from the 'Mahama Faction' (in reference to former President John Mahama who just sent NDC into opposition) in the NDC.

Reacting to an epistle by a former Deputy Chief of Staff, Valerie Sawyerr in which she accused Rawlings and Amidu of helping to send the NDC into opposition, the former AG said he was not in any position to relent on his crusade to ensure a corrupt-free party.

Amidu said he is not bothered about any attempt to initiate disciplinary action against him in the party for speaking his mind following a petition filed by two failed NDC parliamentary candidates to get him checked.

Party Surrogates

"Clearly the John Mahama faction, their surrogates like Valerie Sawyerr and the petitioners who admit to being failed parliamentary candidates at the last elections and other mentors within the NDC think they can frighten core NDC members like myself with threats of disciplinary action," Mr. Amidu said in a statement yesterday.
He said the open letter by Mahama's darling girl, Valerie Sawyerr, who was Senior Policy Adviser and Head of the Presidential Delivery Unit under the Mahama administration, was 'incoherent' and 'disjointed' and described the writer as throwing 'drunken-like diatribes.'

"I was not surprised that the petition followed immediately after Valerie Sawyerr's lying, incoherent, disjointed and drunken-like diatribes against former President Rawlings and me," he said.

Corruption Crusade

According to Mr. Amidu, his fight against corruption, particularly in the NDC, intensified with the Alfred Agbesi Woyome infamous GH¢51.2 million dole out case.

"The Woyome/Waterville case underpins all my actions in the Supreme Court and writings since 2012 and I do so in defence of the Constitution and laws of Ghana, which are superior to the NDC Constitution."
"Only strangers would be ignorant that my war against the Mills/Mahama Government is rooted in the looting of GH¢51.2 million by the Government and Alfred Agbesi Woyome. I have fought and will continue to fight against the looting and protection provided to Alfred Agbesi Woyome by the Mahama Government since the Supreme Court's review decision against the Government represented by the Attorney General and Alfred Agbesi Woyome by John Mahama's Government."

Outstanding Payments

"There are still payments by Agricultural Development Bank cheques issued by Woyome to former Government and party beneficiaries to be retrieved for the State purse. And where is the Attorney General whom the Supreme Court declared to have unconstitutionally authorized the payment of the loot of the public purse to Woyome?"

He said "So, in as long as the values and principles of the 1992 Constitution which gave birth to the NDC Constitution are undermined by an NDC Government, I will continue to defend the national constitution."

"I will continue to always put Ghana first before party as demanded by the 1992 Constitution. Let those who oppose the fight against corruption in the NDC and who also dislike probity and accountability which I stand for with former President Rawlings do their worst."
"It is for that integrity that on 31st December 2016, I was chosen by the Founder to light the perpetual flame for the fallen heroes of the 31st December Revolution. I cannot betray that cause and the 1992 Constitution out of which the NDC was born."

Initial Attack

Valerie Sawyerr, whose father served Rawlings as Education Minister, had first attacked Mr. Rawlings for creating the impression that he was not corrupt before turning her attention to Mr. Amidu whom she described as 'pompous with over-bloated ego.'

She made an astonishing claim that the former Attorney General at one point attempted to assault then President John Evans Atta Mills, saying "Barely a week or so after that, you were relieved of your post as Attorney General after attempting to assault a sitting Head of State?"

"… and what is Comrade Martin Amidu also babbling about? Martin, did I not tell you that your pomposity, over-bloated ego and sense of self-importance constitute your Achilles heel?" she queried.
Resignation

Ms. Sawyerr had challenged the former AG to resign from the NDC since she said Mr Amidu was no longer working in the interest of the opposition party, saying "Respectfully Martin cut the crap! You have achieved your aim … the NDC is in opposition. I challenge you to resign from the NDC since you no longer promote the cause of the NDC. Or do you also subscribe to the agenda to destroy to take over? The agenda that is based on the premise that it is easier to take over the NDC when it is in opposition!"