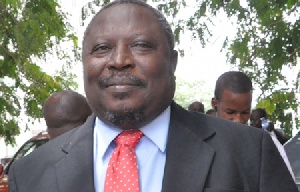 A senior member and a critic of the National Democratic Congress (NDC), Martin A.B. Amidu, has insisted that the party's Member of Parliament for North Tongu, Samuel Okudzeto-Ablakwa, insulted him in an article he [the MP] supposedly authored, using a pseudonym.
Mr. Amidu, a former Attorney General and Minister of Justice, in his recent epistle chastised Ablakwa for ostensibly insulting him in an article titled "Martin Amidu's 'Hate Agenda," when he criticised former President John Dramani Mahama who was an international observer during the Kenyan election which was subsequently annulled by that country's Supreme Court.

The former Attorney General did not mince words at all in taking Ablakwa to the cleaners in his five-page publication.

Samuel Okudzeto-Ablakwa, Member of Parliament for North Tongu Mr. Ablakwa however, rejected the accusations, saying "I state for the record and in true conscience before God and man that I have authored no article on Hon. Martin A.B.K. Amidu."

"I have taken the effort to Google search the said article which I am accused of writing and found the article: 'Martin Amidu's 'Hate Agenda'…rather published in the name of Ohenenana Obonti Krow on ghananewsonline.com.gh dated September 4, 2017," Mr. Ablakwa said in a statement.

But Mr. Amidu in his response insisted that the MP hid behind a pseudonym and published the said article.
"Hon. Ablakwa is fast learning the art of covert operations and deniability in international relations, intelligence, and security. Unfortunately, he left too many foot prints that have exposed him and convince me with the precision of mathematics that he was the author of the two articles," Mr. Amidu added.

Earlier checks showed that ghananewsonline.com.gh did publish the said article, titled "Martin Amidu's "Hate Agenda"—His Outstanding Disrespect For Mahama, The NDC And The Judiciary Is Astounding" on September 4, 2017 with Ohenenana Obonti Krow being the author.

Modernghana.com, on the other hand, posted the same article the following day, September 5, 2017, this time with the author's name being Andrews Krow.

It is thus unclear why the same article had two different but similar names, something that could perhaps give credence to Mr. Amidu's claims that the real author may be hiding his real identity.

Sources at modernghana.com also stated that they have not published any article from the North Tongu MP, Samuel Okudzeto-Ablakwa.
However, modernghana.com does not know in person this columnist, to ascertain whether or not he's who he portrays himself to be or that he could be someone else.

They confirmed that the writer was a supporter of the NDC and a known columnist on their website.

Meanwhile, Martin Amidu said his investigation points to the fact that the article was authored by Ablakwa and further accused him of being mischievous.

"I cannot from my investigations before I wrote my article accept his mischievous denial of the authorship of one of the articles or any of them written insultingly against me."

"Andrew Krow is the time dependent pseudonym of Okudzeto Ablakwa when his articles appear on Modern Ghana. This is the only reason why Ablakwa's article "On Developments In Kenya…" which appeared on myjoyonline on 4th September, 2017 under his real name and Parliamentary rank appeared on Modern Ghana on the same day under his pseudonym Andrew Krow except that he forgot to delete his real name and Parliamentary rank at the tail end of the article," Mr. Amidu added.