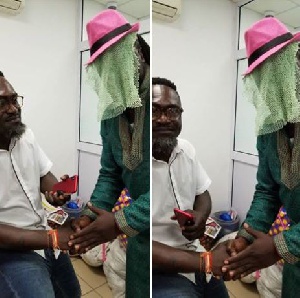 A rare Photo of Anas meeting with Countryman Songo, reportedly, for the first time has gone viral on social media. The picture was spotted on the Facebook page of Kasapa FM.
Countryman Songo was captured with all smiles as he enjoys a handshake with Anas who as usual, has his face covered.

It is not clear the agenda for their meeting, but it is believed that the two met to congratulate each other on the work they have both done to expose the corruption in the Ghana Football Association (GFA).

Some excited social media users have joked about the picture, commenting on Anas' face mask, and how the photo would infuriate Kennedy Agyapong.

Countryman Songo earlier lost his job at Multimedia Group because he was accused of "opening" too much fire on the GFA President, Kwesi Nyantakyi.

Songo during his days as host of 'Fire for Fire', a football show that airs on Adom TV, severely criticized Nyantakyi for being corrupt. According to him, Nyantakyi has added nothing better to Ghana Football, but only "chopping" money "nyafunyafu".
He also alleged that Nyantakyi was to blame for the poor performance of the Ghana Premier League which seems to be defunct.

Countryman made many other allegations against Nyantakyi, which infuriated him to slap Songo and Multimedia with a heavy legal suit. However, Multimedia intervened to have Nyantakyi drop the legal suit, and later sacked Songo as host.

But Songo seems to be vindicated with the latest exposé on the GFA. Even before the video is aired to the general public on June 6, 2018, Ghana is already buzzing with snippets of information falling out from the video leading to the arrest of Kwesi Nyantakyi by order of President Akufo-Addo.

Meanwhile, Kennedy Agyapong has said Anas should not be allowed to show the video. He has also accused Anas of having an illicit affair with the widower of late NPP man, J.B. Dankwa. Ken Agyapong has also leaked photos of Anas, and threatened to leak more of his documents if he should go ahead to show the video.