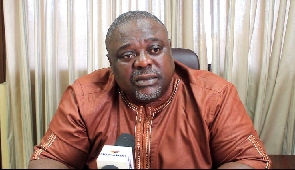 Deputy General Secretary of the opposition National Democratic Congress (NDC) in charge of operations, Koku Anyidoho says he will not speak henceforth on issues relating to former Attorney General, Martin Amidu.
"As for Martin Amidu I am not prepared to discuss any issue about him again. What I know is that a petition brought against him has been brought and we have forwarded it to the appropriate quarters", he revealed on Accra-based Okay FM.

According to him, a petition filed by two persons has been forwarded to the disciplinary committee of the party and it has within 30 days to determine the merit of the case or otherwise.

"Once a petition is against him and is being dealt with, I do not want to talk about his matter again because he has his own troubles", he added

Evans Amankwah and Abigail Elom Mensah have petitioned the party's hierarchy demanding that sanctions be applied against Martin Amidu for breaching some regulations of the party.
But Mr Amidu has since responded to the describing the petitioners as immoral after choosing to publish their petition to the press to court cheap popularity in the interim.

"I consider it immoral that Evans Amankwah and Abigail Elom Mensah who were reported on the internet on the evening of 8th August 2017 to have petitioned on 7th August 2017 to the General Secretary of the National Democratic Congress under Article 45 of the NDC Constitution to take disciplinary action against, me, Martin A. B. K Amidu pursuant to Article 47 thereof choose to publish their petition to the press to court cheap popularity in the interim. The gravamen of their petition is that in exercise of my rights as a citizen of Ghana under the 1992 Constitution, I wrote four articles published on 2nd November 2016; on or about 15th November, 2016; on or about 29th July 2017; and on or about 7th August 2017 which were "carefully designed by to expose the Party to public hatred, ridicule and opprobrium and to lower its reputation in Ghana and elsewhere."

"I am therefore to be disciplined for obeying and defending the mandates of Articles 3, 12, 35, 41, 42 and 55 of 1992 Constitution instead of alleged inconsistent provisions of the NDC Constitution."