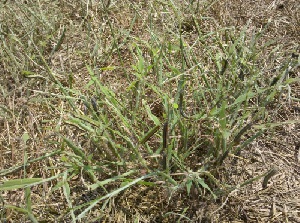 Crop-destroying caterpillars known as armyworms have ravaged nearly 500 hectares of farm fields in some six districts in the Eastern Corridor part of the Northern region sparking food security concerns as government struggles to find potent pesticides to eradicate the marching moths.
Farmers in Yendi, Bimbila, Wulensi, Tatale, Zabzugu, and Kpandai have confirmed the outbreak after claiming the pests invaded and destroyed up all crops in their farmlands.

The helpless farmers have expressed worry of the total destruction of crops and food shortage unless local agricultural officers step up measures to address the situation.

Insufficient rains this season together with land and chieftaincy violence affected food production and the outbreak could mean a possible famine or/and increase in food prices in the region where people are already living with extremely few livelihood options.

A farmer in Tatale where almost 95% of residents are into farming, Amos Jajah told Starr News that the pests have attacked and gnawed large hectares of grains and cereals leaving them hopeless and desperate.

Prosper claimed they have been left to their fate as local officers in charge of farmers' welfare appear indifferent.
"Farms and ordinary grasses are affected, so everybody in one way or the other is having a problem in terms of this armyworm invasion. As for the maize, guinea corn, millet and all those crops, the least said the better.

We actually got in touch with the relevant authorities; the Agric Extension officers, they said they are only waiting for an intervention from government.

"So for now, we are looking for a particular chemical (K optimal)- that is what we are using now to see if we can help salvage the issue otherwise there is nothing we can do for now.

This is a personal affair and they are saying they are waiting for corresponds from government and whiles government is not responding, we cannot allow our crops to keep dying".

Another farmer, Mustapha Musah, in the Nanumba South district capital, Wulensi, said no intervention yet from government despite the devastating level of destruction.
"This is the first cultivation and almost all those who cultivated the early ones have been complaining and if we are not able to get good harvest then they have to repeat the second round.

"There has not been any intervention. Only two days ago we heard they have given some farmers at Yendi some chemicals so we are waiting to see if the district Agric officer has any intervention for us but I'm not sure such thing has happened", he indicated.

The armyworms march across farmlands in large groups feasting on young maize plants and other crops.