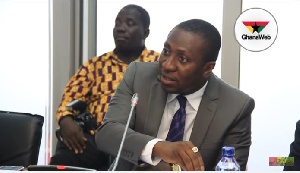 The arrest of two public officials by Parliament's Public Accounts Committee (PAC) has raised varied views from some members of parliament.
While some believe it was a laudable move by the committee, others believe it was a wrong one and may have bad implications.

Member of Parliament for North Dayi, George Loh, in an interview with Accra-based Citi FM said the arrests were in the right direction, whilst applauding PAC Chair, James Avedzi for exhibiting courage when he made the call.

"This is what possibly would have been needed long ago but maybe the chairmen at that time did not point out to that direction, but I am happy that something has happened. If there was anything that the PAC needed to give Ghanaians confidence in its work, it is the ability to bite." Mr. Loh said.

Efutu Constituency Member of Parliament, Alexander Afenyo-Markin, however, believes the opposite. In his view, the Public Accounts Committee is setting a bad precedent with the arrest of the two public officials.

Explaining his stance on the same platform, he said the arrests, considering were done without 'proper investigative evaluation' could amount to 'overzealously acting in a manner that will abuse people's rights".

"We shouldn't set a bad precedent. Under criminal jurisprudence, due process is essential, therefore to me, as a matter of law, if there were issues regarding the testimonies, Avedzi should have filed a complaint or go to the police to file a complaint," he said.
"Are we documentation examiners? Are we fraud examiners? On what basis did we say the document is compromised," he continued.

Background

The chairman of PAC, James Avedzi, on Monday, ordered the arrest of both the former and current district finance officers of the Sefwi Akontombra District Assemblies.

The two men, Isaac Akowaah and James Esilfie were accused of conniving to lie to the committee over irregularities cited in the Auditor General's report.

This was after the committee confirmed through an auditor's report that the accounts being given on some 62 payment vouchers which couldn't be traced by officials of the district were not adding up.

"You want to hold the committee to ransom; that the two of you [connived] to try and deceive this committee…we are going to lock you up. The police will take a statement from you and that statement will be used against you in the law court. We [the Public Accounts Committee] will not prosecute you. [Instead] The government will take over [this case]," Mr. Avedzi told the two men.