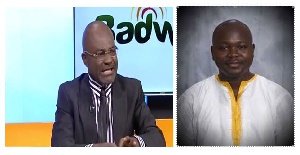 Deputy Chief of Staff at the Office of the President, Mr Francis Asenso-Boakye is being accused of being behind problems of the current Environmental Protection Agency (EPA) boss, Peter Abum Sarkodie, who was forced by the Public Service commission to submit to an interview eight months after his appointment by the President.
According to the content of a tape in MYNEWSGH.com's possession, Ken Agyapong said the public service commission "failed" Mr Peter Sarkodie in the interview ostensibly to have him replaced by Asenso Boakye's blood brother, who is the Special Assistant to the Minister of Environment Science and Technology, Prof Frimpong Boateng, under whose Ministry the EPA falls.

This, according to outspoken Member of Parliament for Assin Central Honourable Kennedy Agyapong, is a "wicked thing to do", and has vowed to blow a whistle on the issue because Peter Sarkodie has no one to speak to for him after more than 15 years of loyalty to the then President Akufo-Addo and the NPP.

In the tape MYNEWSGH.com has obtained, Mr Kennedy Agyapong is alleging that Asenso Boakye and his brother 'schemed' to have the Public Service Commission to force the EPA Boss to re-apply for his job and come for an interview, despite the fact that Mr Sarkodie was appointed by President Akufo-Addo in July 2017.

"Asenso Boakye's brother is at the EPA there. Asenso is pushing for his brother to become EPA Boss because he (Asenso's brother) is the Special Assistant to Prof Frimpong Boateng", he began.

The Assin Central MP revealed that the game plan by the Asensos was to have the Public Service Commission disqualify the current boss (which happened), so that Asenso Boakye's elder brother, who worked with the EPA before joining the Ministry, would be made EPA boss.
He said he was speaking out about the issue because Mr Peter Sarkodie Abum, the current EPA boss didn't deserve the treatment being meted out to him by his sector Minister and the Asensos.

Mr Ken Agyapong said Mr Sarkodie served the NPP for six years as Mampong Constituency Secretary, then he became Chairman for some years before he became Member of Parliament for Mampong, expressing anger that why do "…They want to disgrace him (Sarkodie)".

Mr Ken Agyapong indicated that on the day of the interview by the PSC, he has trustworthy intelligence that the interview panel called Prof Frimpong Boateng asking him for instructions on how to proceed.

"Listen to this oo, they say public service commission have gone to interview him and he has failed. I am telling President Akufo-Addo that that day I have evidence that the Minister called… no, they called him Prof Frimpong Boateng to ask him that 'your person has come, what should we do to him'", he said.

"Yes. This same Sarkodie man was Mampong Constituency Secretary for 6 years and became a chairman and then MP. He has been an adamant supporter of Akufo-Addo" he added.
From the tape, Ken Agyapong said they are accusing Mr Peter Sarkodie of having a drinking problem to disgrace him. But according to Mr Kennedy Agyapong, even if true, it was the same man who fought for NPP and Akufo-Addo throughout and should be accorded some respect, asking:

"Is that the reward for people who sacrificed themselves for Nana Akufo-Addo? Is that really their reward? Ooooh Lord have mercy! Look at what they are doing to Gabbiana. When I went to Bawku, the triumphant entry NPP got. Such a woman… Today they say Rockson. So Gabbiana! She has not been sorted up to now. He work that woman did. Ooh Lord. If Flagstaff House jokes, they will do their own campaign! I am telling you." He said clearly in the tape.

The current EPA Boss

Peter Abum Sarkodie was a Senior Lecturer in Analytical Environmental Chemistry and Environmental Science Education of the University of Education of Winneba, Mampong Campus in the Ashanti Region, before President Akufo-Addo tapped him to be Executive Director of the Environmental Protection Agency (EPA).

He was a former Member of Parliament for the Mampong Constituency from 2005 to 2009 and a Member of the Parliamentary Select Committee for Science and Environment at the time.