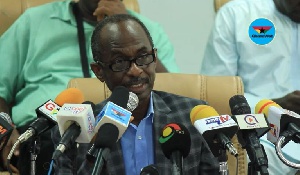 General Secretary of the main opposition National Democratic Congress (NDC), Johnson Asiedu Nketiah, has endorsed former President John Dramani Mahama as the best candidate to win power for the umbrella family in 2020.
The chief scribe who is seeking re-election in the upcoming national delegates conference, told delegates to massively vote for him to help the party win the 2020 polls. He told the delegates his decision to seek re-election is to bring onboard his experience to make the party win 2020.

"I want you to vote for me as general secretary. With my experience, I will help the party. If we should elect a candidate like Mr Mahama and Asiedu Nketiah as General Secretary, victory will be ours in 2020,'' he appealed.

Mr Nketiah used the opportunity to explain reasons why he is seeking re-election despite being part of the leaders that failed to clinch victory for the NDC in 2020. He blamed the new executives for being the cause for the party's defeat.
"In 2005, when we went to vote, during that time the party was divided, yet I was still given the nod. We were in office, and three years after some executives were removed.

For some of us the main ones, we were retained…because we were able to reason together we contested in 2012 and we won. We were dragged to court (by the NPP) and after eight months we were victorious.

In 2014, some of the people that reason together with me were removed and new ones were brought on board, and we went to the elections and were defeated. So who is at fault, myself or the new ones that were brought on board?" he asked.