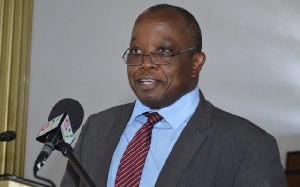 The Audit Service recovered a total of GH¢67.3 million through disallowances and surcharges into government coffers last year.
This followed the issuance of 112 surcharge certificates to individuals and organizations in 2018.

The Special Audit Report on Disallowance and Surcharge as at November 2018 and presented to Parliament showed how the money was recovered.

"Our follow up on the status of implementation of recommendations in Auditor-General's previous reports resulted in the recovery of a total sum of GHC67,315,066.126 from public officers, individual and institutions who committed financial infractions in the course of performing their duties," parts of the report read.

The report also shows that out of the total claims or liabilities amounting to GHC11,810,579,603.55 submitted by the Ministry of Finance to the Audit Service, "we were able to certify a total ofGHC6,331,326,592.29 and disallowed GHC5,479,253,011.26"

It also reiterated the Auditor-General's commitment to protecting the public purse while assuring the public that its intention is not to deny payment to anyone who has genuinely worked for the Government or provided goods and services to Ministries, Departments and Agencies.
Background

It is recalled that the Supreme Court in June 2017 ordered the Auditor-General to surcharge anyone found to have misappropriated public funds.

Per the judgment, the Auditor-General must act on its annual report and take steps to retrieve any public funds found to have been misappropriated.

The judgment was in relation to a case filed by the pressure group, OccupyGhana, following a campaign it had initiated against the attitude of the Auditor-General, whom it accused of not applying the law and protecting the public purse.

OccupyGhana sued the Attorney General and the Auditor-General for refusing to surcharge persons who misappropriated monies to the tune of over 40 million cedis belonging to the state.
The group expressed dissatisfaction over the Auditor-General's constant failure to hold accountable and surcharge persons who misappropriated public funds although it had the power to disallow expenditures which were not in conforming with the law.

The Supreme Court then granted all the reliefs that OccupyGhana sought with respect of the Auditor-General's powers of disallowance and surcharge.

It is following that ruling that the Auditor-General is progressively reporting on how much has been recovered in 2018 and has submitted the report to Parliament.

The report seeks to draw the attention of Parliament and the citizenry to progress made by the Service on Disallowance and Surcharge after the landmark decision of the Supreme Court on June 14, 2017