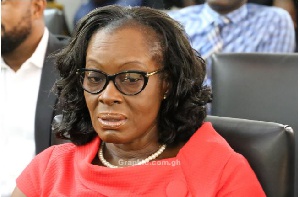 Corruption Watch Ghana, an anti-graft initiative, has called on all relevant institutions to take immediate steps to ensure persons indicted in the 2016 Auditor General's Report are investigated and punished if found guilty.
In a letter signed by Dr. Kojo Asante, Project Manager of Corruption Watch, the Movement urged the Attorney General and Minister of Justice (AG) to pursue all possible offences and cases of fraud committed by public servants and private individuals or companies cited in the report.

A similar letter was written to the Minister of Finance, urging him to exercise his powers under Sections 96, 97 and 98 of Act 921, to punish all those who have breached the law and ensure such systemic failures do not reoccur.

The group also wrote to Parliament and the Public Accounts Committee of Parliament (PAC), to ensure all credible allegations of fraud identified in the report are extensively investigated and persons found culpable prosecuted. Parliament was also tasked to spearhead institutional reforms in all MDAs to reduce – if not eliminate completely – the financial malfeasance cited in reports of the A-G, that are submitted annually to the PAC.

The 2016 Auditor General's report submitted to Parliament in January, revealed that a colossal amount of GH¢5.4 billion was disallowed by the Auditor General within the year under review for reasons including the absence of relevant documents, goods not supplied, claims already paid for, among other reasons. Corruption Watch noted that the submission of such alarming reports to the Public Accounts Committee (PAC) of Parliament occurs every year.
They, however, bemoaned the fact that the law is not enforced to punish officials indicted in such reports, to serve as a deterrent to the others. The amount, according to the movement, raises serious questions, not only about public financial management practices, but also about the scale of possible financial malfeasance.

Corruption Watch Ghana is an initiative of the Ghana Center for Democratic Development (CDD-Ghana), Joy FM, Ghana Integrity Initiative (GII), Ghana Anti-Corruption Coalition (GACC), Africa Center for International Law and Accountability (ACILA).

Its mission is to promote integrity in public life by demanding and activating the responsiveness and accountability of all actors in the anti-corruption space. It works to ensure corruption cases are investigated, suspects prosecuted and proceeds recovered