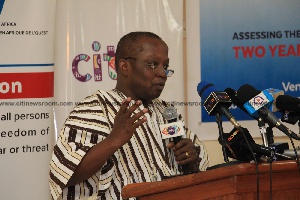 Ghana's Auditor-General, Daniel Domelevo has stated that if he were David Asante-Apeatu, he would not have accepted his appointment as the Inspector General of Police (IGP) because the government has complete control over that office.
Ghanaweb.com reports that Domelevo believes working under the complete control and direction of government makes his position ineffective hence the reason he is unable to bring some perpetrators to book.

It has not been an easy few months for the IGP as the country has been beset by a plethora of violent incidents that have citizens worried about their general security.

The IGP has come under heavy pressure and criticisms from the public and some civil society groups to resign his position following violence that marred the by-election in the Ayawaso West Wuogon Constituency recently.

But speaking at the Town Hall Meeting on Media and Corruption in Ghana on the theme "Assessing the performance of the media in fighting corruption in Ghana: Two years of Akufo-Addo's administration", the Auditor-General commended the IGP for a good job done in spite of the backlash he has received.

According to him, the IGP must be saluted because he is not autonomous and it is difficult to act professionally when working under an authority.
Domelevo is quoted as saying: "In fact the day I looked at the law or the constitution, Article 200, 201, 202; this is about the IGP, I say my goodness IGP is doing very well, we should salute him. How can you say he's working under the direction and control of the council?"

Domelevo further indicated that although his office is not under any directive or control, some people still want to exercise control over him, for which he is not allowing them to.