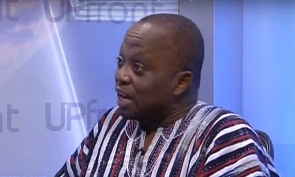 The Auditor-General has uncovered almost a billion cedis lost to the state of Ghana through financial irregularities perpetrated by some top officials and management in Ministries, Departments and Agencies (MDAs).
The details of the irregularities forms part of the 2017 Auditor-General's Report, which includes revelations of how millions of cedis of internally generated funds were not paid into state coffers.

There are also revelations that a total of GHC103,000, 000 has so far been lost to the state because assorted items were taken from the GRA, Customs bonded warehouses without paying duties and taxes.

The Auditor-General has recommended that the unpaid duties is recovered together with its associated penalties by the Commissioner-General.

He also recommended that the resident Customs Officers are sanctioned to serve as a deterrent to others.
Under the Health Ministry, the Auditor-General found that two budget management centres and seven health institutions as at 30th June 2016 collected maintenance fees totally GHC476,000 but paid only GHC212,000 to the state leaving more than GHC200,000 outstanding.

This happened at the Korle Bu Teaching Hospital. The Auditor-General has asked management to pay the difference into the public fund, failure of which they'll be surcharged.

At the Ministry of Agriculture, the Auditor-General found that many of the people given state purchased agricultural machinery on hire-purchase have failed to make payments totaling more than GHC1.6 million.

One of the biggest financial losses to the state was discovered at the GRA. The Auditor-General found that a total of GHC103,000,000 has so far been lost to the state