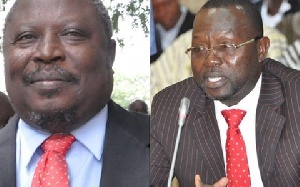 Opposition Member of Parliament for Bolga East Dr Dominic Ayine has filed a suit at the Supreme Court against the nomination of former Attorney General Martin Amidu by President Nana Akufo-Addo as Special Prosecutor.
The suit was filed by Dr Ayine at the Supreme Court through his lawyer Tony Lithur.

According to Dr Ayine, Mr Amidu does not constitutionally qualify in terms of his age since he is 66 years now, which far exceeds the constitutionally mandatory retirement age of 60.
According to Dr Ayine, even though a person occupying a public office could have his tenure extended until he is 65 years old, Mr Amidu is currently 66 years and so cannot occupy that position.