While sharing his view on a communication between the British Broadcasting Corporation (BBC) and Sulemana Braimah, Executive Director of Media Foundation for West Africa where the former is said to have denied a collaboration with Tiger Eye PI, Samuel Darko stated that "there is competition between BBC and Aljazeera as to who should take up [the] Number12."
The comment of the journalist and lawyer suggested Anas Aremeyaw Anas and his Tiger Eye PI should rather be lauded for their efforts to expose corrupt officials than vilified.

The methodology employed by Anas has come under heavy criticisms following his latest documentary, Number 12, which implicated Kwesi Nyantakyi, then President of the Ghana Football Association (GFA) as well as other officials.

Mr. Braimah, known to have said Anas' 'Number12' is not a journalistic piece, in his bid to find out if indeed the documentary was a joint Tiger Eye PI – BBC project, is said to have engaged the British public service broadcaster. In the 'intercepted' communication between them, the BBC denied having collaborated with Anas and his team.

"Contrary to any reports or rumours you may have heard or seen prior to publication stating 'Number 12' was a product of a collaborative work by the BBC and the journalist (Anas Aremeyaw Anas) this was not the case," the BBC said.

"The BBC documentary, 'Betraying the Game', broadcast after 'Number 12' was first put into the public domain, was an independent and impartial work and a report about Mr Anas' investigation. The BBC played no part whatsoever in his investigation and has never sought to suggest otherwise. Mr Anas is not a BBC journalist, we did not work with him during his investigation or commission him to carry out this investigation" it added.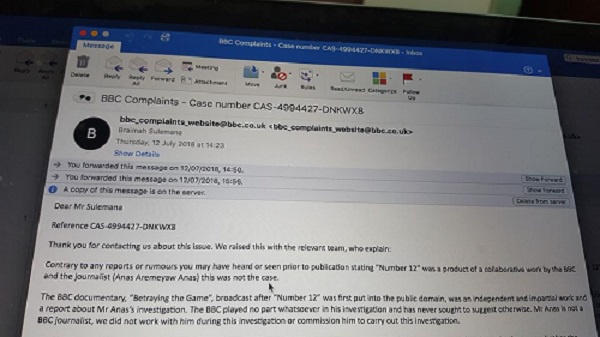 The said intercepted communication between Braimah and the BBC

Responding to the development in a Facebook post, Mr. Darko asked Braimah to share with the public what questions he [Braimah] asked of the BBC.

He recalled that it has "always been Anas' idea. That an African journalist will produce work that giant media houses will chase for the rights" and queried if it isn't "a fact that there is competition between BBC and Aljazeera as to who should take up Number12."

Below is his full post