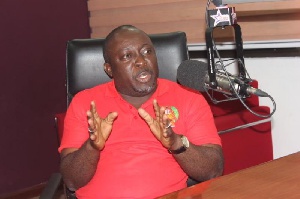 Many NDC bigwigs are blaming former President John Mahama for the defeat the party suffered in the 2016 general elections, but former Member of Parliament for the Akwatia Constituency in the Eastern Region has begged to differ.
According to him, the defeat the opposition National Democratic Congress (NDC) experienced in the 2016 elections was a collective failure of all party officials including himself as certain policies they implemented pushed the NDC into opposition.

Speaking on Okay FM's 'Ade Akye Abia' Morning Show, Baba Jamal disclosed that policies like scrapping teacher and nursing trainees allowances in an election year brought the downfall of the party.

He again stated that the defeat of the NDC was largely caused by the increase in the Electoral College during the party's primaries as it brought disunity into the party.

"I realised that our primaries caused our defeat due to the disintegration it brought. The mode of selecting Parliamentary Candidates was wrong and we shouldn't try it again. Every seat we won by 2000 or 3000 votes, we lost them all in the 2016 election, and so clearly, it was the primaries which caused those loses," he said.
He further asserted that the failure of the party to stop MCEs, DCEs and Ministers who were not MPs and Presidential Staffers to contest sitting NDC MPs in the primaries also caused the NDC fortunes in the 2016 election, as many of the sitting MPs lost their seats to government appointees with full understanding that the appointees have the support of the President.

"Initially we suggested that MCEs, DCEs, Ministers who are not MPs and Presidential Staffers shouldn't contest any sitting NDC MP. The issue was that when the Presidential Staffer and appointees contested a sitting NDC MP, the perception was that the President was in support of the Staffers and the Appointees, and that brought bickering in the party, especially when the MPs lost their seats to the Staffers and Appointees," he asserted.

"Ministers and Appointees attitudes toward party members whenever they visit their offices brought anger as the foot soldiers sometimes sit for many hours without anybody attending to them. These are the three major issues which caused our downfall in the 2016 election, and it is not the President who didn't do his work well," he indicated.