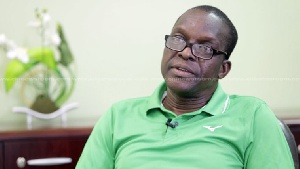 Second Deputy Speaker of Parliament Alban Bagbin has apologised to Ghanaians, especially persons with disability for his comments against them, which he said, was misconstrued by his opponents for political gains.
Addressing journalists in Accra on the matter Tuesday, Mr. Bagbin he said he least expected such comments cause emotions to rise among a section of the Ghanaian people, and accordingly said "I render my heartfelt apologies to you all".

He said he takes full responsibility for the comments made, which he said was the misrepresented by some activist within National Democratic Congress for their political interest.
"I want to take full responsibility for the indiscretion of going with issues that will otherwise be private to the NDC. I have learnt that such disclosure could raise emotions among some sections of the Ghanaian society," he added.