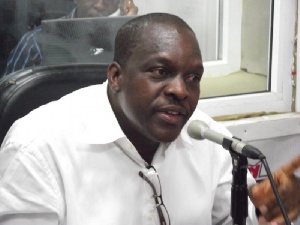 Former majority leader in parliament, Alban K.S. Bagbin, has claimed he knew that a number of his colleague National Democratic Congress (NDC) Members of Parliament (MPs) were going to be defeated in the 2016 general election, but stated that he was 'shocked' that former President John Dramani Mahama lost the presidency to Nana Akufo-Addo.
"You realized that my speeches at that time were focused on the Members of Parliament because I realized we were going to lose our numbers but not to this extent…to me it was a shock," he asserted.

Mr. Bagbin, MP for Nadowli Kaleo, who is now the 2nd deputy speaker of parliament, told an online news portal – mynewsgh.com – that if anyone had predicted that Mr. Mahama was going to lose the December 7, 2016 contest, he would not have believed it.

"For the president losing, yes it was shocking. What we saw and the experience in the 2016 election, there was no way a prophet could have convinced anybody President John Dramani Mahama was going to lose the elections," the former majority leader noted.

He said his criticism of then President Mahama's leadership style was never in bad faith, adding that it was meant for the NDC government to sit up.

"What I did was to give early warning signs, ring the alarm bells that something was going wrong. In spite of our intellectual wealth, we still needed cool heads, knowledge and experience, and those were lacking in the leadership of the party, but some people understood me wrongly, a few things were done on my outcry but that was not enough," he said.

"That is why I came out early enough but some people misunderstood me. The blame game is expected, but we are trying to reorganize and I can assure you we will bounce back in 2020," Mr Bagbin prided.
In a related development, a former Northern Regional Minister, Alhaji Mohammed Muniru-Limuna, has said Present Mahama's defeat could be self-inflicted.

He said he would not rule out the possibility that some elements within the party sabotaged the then president in order to make their presidential and vice presidential ambitions materialize.

"I would not rule that out and I would not want to say that publicly. If I get the opportunity in any meeting that is indoors I can raise it. There were people who wanted John to fail so that they could push their agenda of being presidents, vice presidents and whatever," he stated but did not mention names.

Alhaji Limuna, who is the immediate-past Minister of Agriculture, said in spite of their shenanigans, ex-President Mahama, remains the best bet for the NDC in 2020.

"He is the one who is spiritually and physically capable to lead the party to victory in 2020. It is either John Mahama or no one else. My prayer, however, is that he should accept to go as our candidate in 2020, despite claims by his family he will not run again," he told mynewsgh.com.