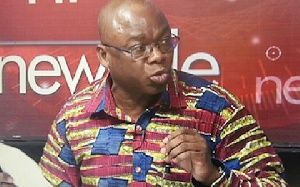 Ghana's representative on the African Union Advisory Board on Corruption, Daniel Batidam, has resigned after accusing the African Union Commission of covering up malpractices within the advisory board.
Mr Batidam told TV3's on Wednesday, 20 June that: "The sad thing is that it appears that there are people in Addis Ababa at the Commission who are ready to cover up these malpractices."

"It is good to have an advisory board but we need to have the independence and credibility to be able to do our work", he said.

According to him, the Commission launched investigations into certain complaints of corruption within the board, "but as I speak to you today, we do not have any report".

In March 2018, Mr Batidam said, "just three months ago, the board had to send another petition which has still not been resolved".
Per his resignation letter dated 8 June, Mr Batidam said: "After witnessing several instances and degrees of bad governance including the abuse of entrusted power (or corruption), lack of probity, accountability, transparency and integrity at the Secretariat of the AUABC and some Departments of the AU Commission itself for over a period of three years now, while efforts at seeking redress have yielded no results, I have decided on grounds of principle that enough is enough."





According to him, "It took less than one week for the African Union Commission to respond to my resignation", but "we have been complaining about issues for years, they are not addressing them."