General News Sun, 26 Aug 2018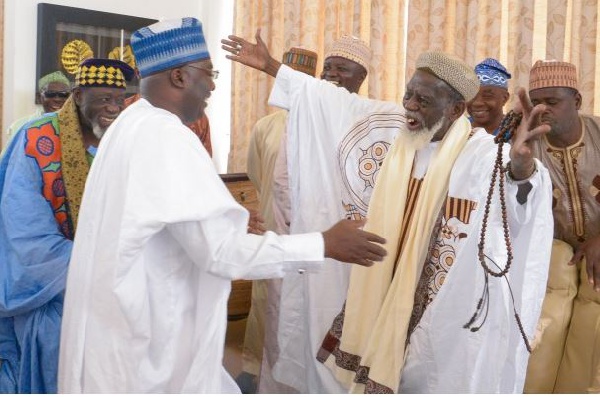 Vice-President Alhaji Dr Mahamudu Bawumia arrived in Accra on Sunday, 26 August 2018 from Mecca, Saudi Arabia after performing the Islamic pilgrimage of Hajj.
The Vice-President, accompanied by his wife, Hajia Samira Bawumia, had joined thousands of Ghanaians and millions of Muslims around the world in performing this year's Hajj.

The Hajj is one of the five pillars of Islam and fulfils one of the conditions for total submission to the will of Allah.

Dr Bawumia was welcomed at the Kotoka International Airport by the Chief Imam, Sheikh Dr Osmanu Nuhu Sharubutu, and other leaders of the Muslim community, as well as government officials including Sheikh Dr Mustapha Abdul-Hamid, Minister of Inner City and Zongo Development.

In a brief remark, Dr Bawumia indicated that he and the other participants in this year's Hajj had prayed and continue to pray for the nation and her citizens, especially the President, in this holy month.
"We dedicated our prayers to the continued peace, unity and prosperity of our beloved country, especially President Nana Addo Dankwa Akufo-Addo and all Ghanaians. We will continue to pray for the growth and success of our dear nation Ghana, especially in this holy period."

He expressed his personal appreciation, as well as that of the entire Muslim community, to the Chief Imam, "who has continued to provide leadership and guidance to us all. May Allah grant him long life and health."

Vice-President Bawumia also expressed his appreciation to King Salman, ruler of the Kingdom of Saudi Arabia, and the Crown Prince, Mohammed Bin Salman, for the warm reception accorded to Ghanaian pilgrims during the Hajj, saying, "They made us very welcome and treated us very well."