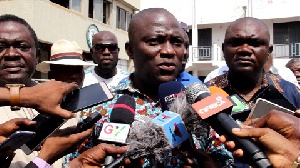 The Bloomberg Initiative Global Road Safety (BIGRS) and the Accra Metropolitan Assembly (AMA) Pedestrian Road Safety Action Plan is yielding positive results after its implementation at the Abeka Lapaz Intersection.
Mr Mohammed Adjei Sowah, the Accra Metropolitan Chief Executive, disclosed this to the Ghana News Agency when he inspected the Intersection with members of the Accra Road Safety Council, to assess the results of the implementation.

He said the collaboration between the AMA and BIGRS had helped in the formation of a taskforce and provision of alcohol testing devices to check drunk-driving.

Mr Sowah said members of the taskforce had also been trained to enforce seat-belt wearing among motorists, the use of helmet by motorcyclists and data collection on road fatalities.

He said the collaboration with BIGRS had also resulted in road safety inspections and increased crossing time for pedestrians to make the roads disability-friendly.

Mr Sowah said the AMA and the BIGRS are liaising with road agencies such as the National Road Safety Commission, the Department of Urban Roads, Ghana Highway Authority, and the Police to improve road safety on the N1 Highway.
"This road safety strategy for Accra, through to 2030, would help build upon the progress made and provide a lasting reference point for what we want to achieve as a city," he said.

He said the road traffic system would be improved to protect the citizens and give them the security to go about their daily activities without fear.

Mr Boye Laryea, the Municipal Chief Executive of Okaikoi North Municipality, said the Assembly was putting structures in place to ensure pedestrian safety and pledged his support towards enhancing the effective performance of the taskforce.

The Deputy Superintendent of Police (DSP) Francis Aboagye of the Motor Transport and Traffic Department, Ghana Police Service, advised drivers to be cautious when approaching intersections to avoid accidents, especially pedestrian knockdowns.

Mr Abass Moro Ibrahim of the Ghana Private Road Transport Union called on the Assembly to eject the hawkers selling on the pavements to allow for free-movement of pedestrians.