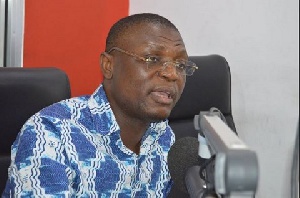 Most of the recommendations made by the 13-member Kwesi Botchwey Committee tasked to probe the defeat of the National Democratic Congress (NDC) in last year's elections were expected, the National Organiser of the NDC, Kofi Adams, has said.
According to him, the party was much aware of some of the issues highlighted in the report even before the committee was set up.

The committee submitted its report to the party on Monday June 19 at the party's headquarters in Accra.

In presenting the report, Prof Botchwey said: "We did a very comprehensive job of listening to everybody.

"Everybody spoke frankly and honestly. We do make a number of recommendations including a recommendation that the party put together a group of credible and eminent members of our party to undertake a peace-making and healing tour of the country and visit all key sectors and constituencies. We believe this is extremely important for purposes of creating the necessary conditions for any serious work that needs to be done in the way of party restructuring and renewal.

"We also have a recommendation that the party takes steps to restore the integrity of the biometric register and the expanded Electoral College. Additionally, we recommend that steps be taken to restore the capacity and effectiveness of the party's organs, especially to the branch level. We believe these organs are most critical because they are the party's immediate connections with the people. We are, after all, a truly mass party.

"We also have recommendations on ways in which we can and must improve the collation of election results. We also believe that steps ought to be taken by the party to reconnect itself properly to our social democratic roots and the principal actors in these social democratic roots – the social forces that populate our social democratic base.
Speaking on this matter in an interview on GHOne Television Monday June 19, Mr Adams said: "Issues with the structures of our party, like the youth wing and the women's wing, because of the changes in the demographics and all the social factors and what have you, is something that we are more than aware of.

"So yes, a number of the things that we find in the report really are not surprising."