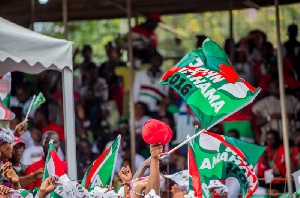 A lecturer at the Political Science Department of the University of Ghana, Dr Alidu Seidu, has stated that the implementation of the recommendations of the Kwesi Botchwey Committee will not necessarily assure victory for the National Democratic Congress (NDC) in the next presidential and parliamentary polls.
The 13-member committee on Monday 19 June submitted its 455-page report on why the NDC lost the 2016 elections and recommendations on how the party can regain power in 2020.

The National Organiser of the party, Kofi Adams, told Class News the leadership would meet on Wednesday June 21 to consider the recommendations.

"This committee is a committee of the National Executive Committee (NEC) and so NEC will take a decision on the way forward. On Wednesday at 10am the NEC of the party, which is the second highest decision-making body after congress, will meet and this report will be subjected to some detailed discussions and the way forward will be taken from there. It is our hope that we immediately will start work on some parts of the recommendations that are doable almost immediately," he stated.

However, Dr Seidu, speaking to Valentina Ofori-Afriyie on 505 on Class91.3FM, said although the full implementation of the report would improve the NDC's electoral fortunes, it would not necessarily translate to victory for the party in the 2020 elections.

"I personally think they have very good recommendations and they will have to actually implement them comprehensively one after the other. That could guarantee that fact that they will be able to mobilise very well and compete credibly and competitively in the 2020 election. …I don't think addressing these recommendations alone will guarantee them victory in 2020, but it will make them compete in a stronger way than they did in 2016," he stated.
In his view, the chances of the NDC winning elections in 2020 is incumbent on "addressing the challenges that made them lose in 2016 and the other will have to do with the performance of the NPP from now to 2020".